about me
Great Photography is about the relationships we build to create a calm on your day, here is a little about myself.
All you need is love.
Love doesn't make the world go round. Love is what makes the ride worthwhile.
Amazing photography is about relationships…. your relationship AND our relationship together.
I believe I have the best job, as a wedding day is filled with magical interactions between a variety of people. My role is to help capture those interactions in a form that you can relive them again and again after your wedding day.
By getting to know you and developing a relationship, is how I understand what is most important to you on your wedding day, then enabling me to capture those perfect moments and memory's.
Having trust with your photographer results in stunningly beautiful images that you can share to keep your memories alive forever.
My style is timeless, relaxed, and natural.
My character is friendly, supportive and positive, and my images are magical and beautiful.
I have now been creating personalised Photographic art for over 10 years. I specialise in offering fantastic quality Wedding, Studio & Portrait Photography services at affordable prices, but without skimping on quality.
I have always had a passion for taking photographs & I have luckily had the ability to turn this passion & joy into my career.
To take this vision & creativity to capture your memories and moments, for them to be cherished for years to come. I take pride in working directly with you to discover your ideas ad then capture those magical moments for you to: Keep, Share & Treasure Forever.
So please, if you think I could be the right photographer for you, and would like to talk more about how I can create beautiful images of your special day get in touch.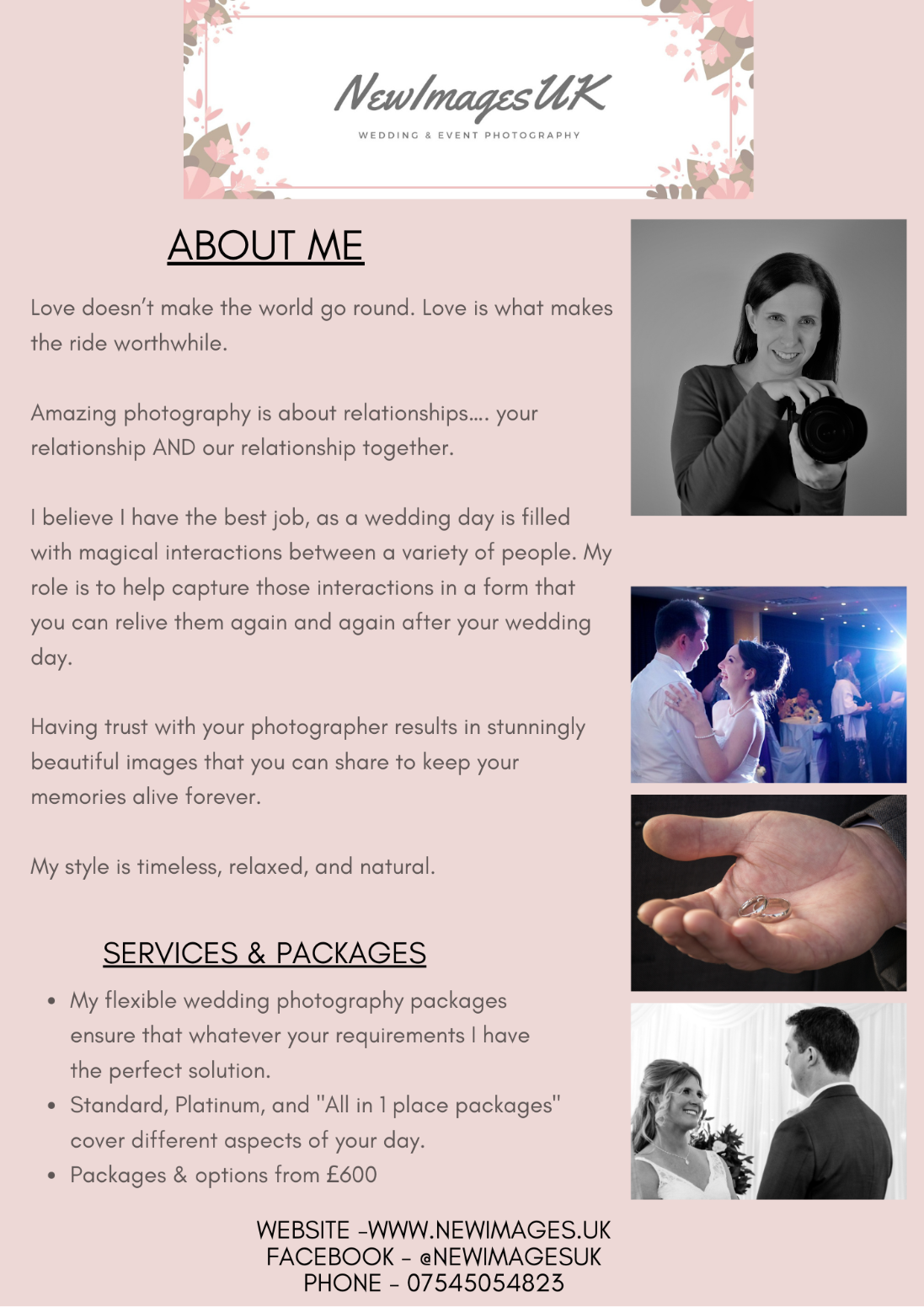 Testimonials:
Nicola was fantastic!! My husband does not normally like having his photo taken but Nicola made him feel so relaxed. My family and friends have never laughed so much. She made me feel at ease and to be honest we all forget Nicola was there. Would highly recommend - Charlotte, Retford.

This lady is so chilled and will do anything to make you relax. We had a wonderful day on the day of my daughters wedding. Thank you so much. - Roslaind - Retford

We can't thank you enough! Don't know what I would have done without you, you are a lifesaver! Thank you for everything. - Dawn & Graham - Doncaster

Thanks so much for the professional service you provided on our wedding day. We are extremely happy with the photos! Natalie & Jamie - Chesterfield